Russell Tanoue by Katie Young
Russell Tanoue has become one of Hawaii's top photographers and remains in high demand after couple decades behind the lens. He first picked up a camera at the ripe age of 12 and used everything from lamps, tinfoil, fabric to take quick shots of his subjects. Today Tanoue brings out the best in models, actors, recording artists and celebrities in Hawaii and across the United States, capturing a person's unseen beauty and creating images that can only be described as electrifying. He is also known for creating the "faces" of tomorrow.
A former dancer Tanoue's work has appeared in magazines, brochures and models'/actors' portfolios as well as on posters, CD/video covers and calendars. His client list includes such celebrities as actor Daniel Dae Kim of LOST/Hawaii 5-0, actress Kelly Hu , former Miss USA and actress Laura Harring,  actor Jason Scott Lee, artist Christian Lassen, international male models Sebastian Siegle and Scott Milligan, the Playboy Playmates for Hardbodies as well as recording artists, Anita Hall, Kristian Lei, Pauline Wilson, O-Shen, Raiatea Helm, Eden Kai, international star Anita Sarawak and from the reality TV shows, Anya Kop from America's Next Top Model, Mark Kanemura from So You Think You Can Dance.  Most recently Tanoue was hired to create official images for Hawaii's newest Boy Group-Crossing Rain.  He has been the photographer of choice for MidWeek newspaper's annual swimsuit issue for 14 years.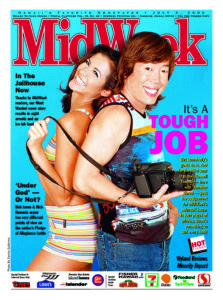 Tanoue's talents have also put him in front of the lens on occasion, making him the subject of numerous newspaper and magazine articles as well as news and entertainment programs, including E Entertainment's Wild On. Russell was also the cover model for Look Hawaii Magazine, April 2010, Hawaii Business News, cover of MidWeek Magazine twice and also featured in the local/national magazine Real Word.   Russell also had a walk on appearance on France's hit reality tv show, Angels of Reality.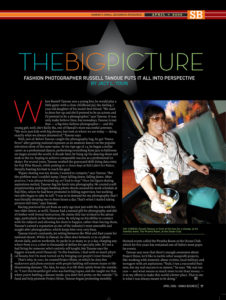 One of his missions is to make a positive difference in the lives of people he encounters. To that end, he created Project Shine in 2001. The program offers free makeovers and photo sessions to people fighting cancer and other diseases, victims of domestic violence and teenagers rehabilitated from drug abuse.   His ongoing spreading of positive messages such as "Always choose joy" and "I AM Enough" is important to him especially to our teens today.
He has entertained at his special events such celebrities as NBA Star Reggie Miller, Cory Hart, Playboy Playmates, Deal or No Deal models, Actress Kelly Hu, Platinum Recording Artists, Ready for the World, Jennifer Love Hewitt, Comedian/Actor Jon Lovitts, Wayne Brady, Wilmer Valderrama, Johnny Depp Recording Artist, Bruno Mars and countless others.  You can experience one of his annual events called SHINE.  An annual birthday celebration for over 21 years raising thousands of dollars for charity.  For more about his project visit, www.pshinehi.com .
Tanoue began his career in the art world as a professional dancer. He traveled throughout the United States and Canada for eight years and performed on the Hawaiian Moving Company and the national 20th Century Fox's Dance Fever. Tanoue's talent for doing make-up and taking pictures of some of the dancers eventually led him to his passion for professional photography.
Today Tanoue has extended his services beyond the fashion and entertainment industry and has created special photo shoot packages for graduating seniors, realtors, professionals, etc.
Latest article:  Shout out LA
For testimonials click here.